ST ANTHONY OF PADUA
THANKS TO THE WITTY MARIO MACARI FOR THIS
ART ABOUT ST ANTHONY'S MIRACLES!!! NEW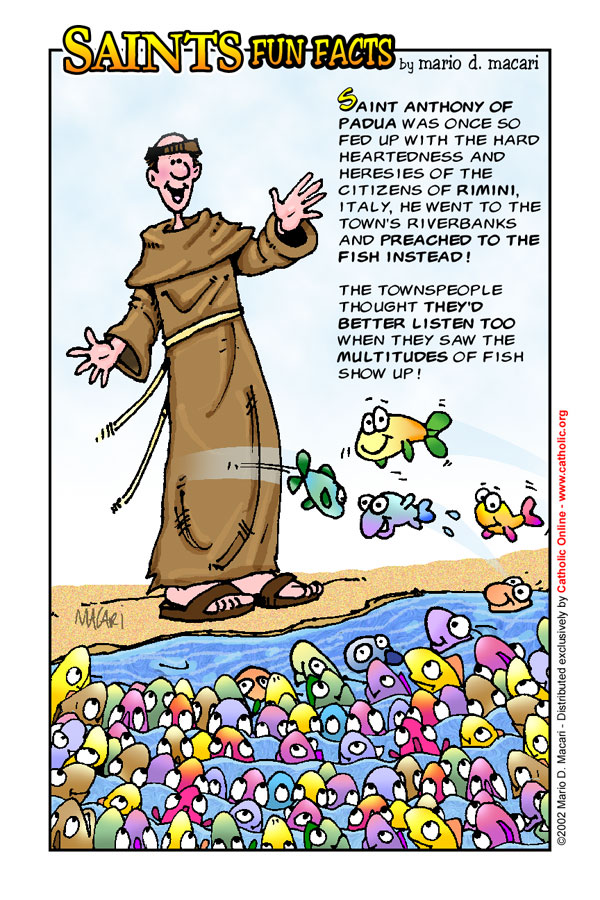 St Anthony of Padua is an evangelical Doctor of the Church.
He lived during the period of great persecution of Christians.
He had rebuke many heretics and was able to convert through
God's grace, many unbelievers.


Those unbelievers returned to God's fold by witnessing miracles
attributed through his powerful intercession. One famous miracle
is when he was preaching to heretics and they did not like to listen to
him. Then, St Anthony preached to the fishes and said, "Why don't
they listen to me?" According to the story, the fishes all lined up
and stand over the water in an erect position! The heretics were amazed
and believed in the power of God.


Another miracle story is an occasion where he was challenged by
an atheist and said, "We will place before a hungry horse hay and
the host (body of Jesus) and we will see which one he will like!"
As the story goes, St Anthony raised a host before the hungry horse.
Suddenly, the horse knelt before the host!


Miracles are gifts of God to assist unbelievers to develop faith in Him.
As the saying goes, "For a believer, one miracle is more than enough;
for an unbeliever, many miracles are not even enough."


St Anthony has great faith in God. Just like Mother Mary and St Joseph,
St Anthony is an exemplary example of a saint who loves God and take
God at His Word.