Thursday, April 2, 2020
CYNTHIA ABEGAL'S COLUMN
There is No Other
(Very beautiful and meaningful poem. Cynthia shows us to love our God Almighty. He loves us and guides us and every step He is with us. Indeed a great poem)New World

Love Him with all your heart and soul,
The Omniscient who loves our goal
He created Wisdom that pervades,
There is no Other, my accolades!


Where He is present is Holy Ground,
He dwells within us with faith beyond
A mustard seed grows a giant tree,
There is no Other, beyond the mulberry.


Hearts of stone become hearts of flesh,
Untiring Jeremiah proclaimed without rest
Grace filled with love abounds domain,
There is no Other, above mist and rain!


My soul searches in the balmy night,
My mind searches in the sunny breeze,
My heart searches in spring so bright
There is no Other, I say without cease!


Thanks when morning has broken,
Thanks when sunrise awakens
Thanks when the fields turn green,
There is no Other, only HIM!

All rights reserved by the author: Cynthia Abegail
Wednesday, April 1, 2020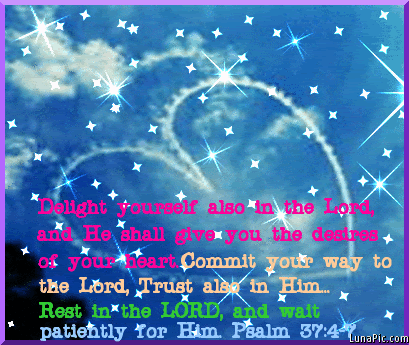 Posted by

CynthiaAbegail
at 5:12 AM
No comments:


TO GLORIFY THE LORD IS A PRIVILEGE! LET
US CALL ON HIS NAME IN TIMES OF TROUBLE
FOR HE WILL DELIVER US!
"So I say to you, Ask and it will be given to you; search, and you will find; knock and the door will be opened for you. For everyone who asks receives, and everyone who searches finds, and for everyone who knocks, the door will be opened." (Lk 11: 9-10).
It is one of the Lord's promises! Ask, but are we persistent in asking the Lord on asking for what we need? Are we just asking for material things and not for the things that matter in life.
Sometimes, we qualify only material needs as the highest priority in our lives. On the other hand, protection, happiness with our family, peace and spiritual growth are more important than those transient things.
Seek the Lord with all your heart and you will see His absolute goodness and mercy. We may not feel it in an instant, but it will come. It's a matter of faith! Believe and God will never fail you. But it just does not come like magic. It comes at the most unexpected places and undetermined time. We may ask why...because God is God! No one can predict His ways, how can we? For God's wisdom is beyond understanding. Seek Him for you may never know, like a good shepherd, God is already seeking you and your soul for many, many years! Allow Him to find you, even if we are in mud or quagmire, He will raise us up.
How do I know, you may ask! Because He did it to me! Praise the Lord forever and ever...In Jesus Name. Amen.
Posted by

CynthiaAbegail
at 5:09 AM
No comments:


Posted by

CynthiaAbegail
at 5:09 AM
No comments:


THE FLOWERS IN THE MEADOW: ARIANNA ROSE PHILIP
THE FLOWERS IN THE MEADOW
*********
I WAS WALKING IN THE MEADOW
AND I SAW A FLOWER THAT WAS YELLOW
AND ALL NEW FLOWERS POPPED
I THOUGHT OF A FUNNY FELLOW
Copyright: Arianna Rose Philip
A poem with a scent of freshness and innocence! A young gifted poet, Arianna is granddaughter of
Chief Editor of New World publications, George Kurian and she is also the daughter of Anisha Kurian- Philip and Mr Philip. Excellent poem). Cynthia Abegail
ARIANNA LOVES TO DEDICATE THIS POEM TO ANIL KURIAN, HER UNCLE
ON HIS BIRTHDAY FEBRUARY 22nd. HAPPY BIRTHDAY
MY DEAR UNCLE.
Posted by

CynthiaAbegail
at 5:08 AM
No comments:


But if God so clothes the grass of the field,. Which is alive today and tomorrow is thrown into the over, will He not much more clothe you, you of little faith? Matt 6:30
Electricity goes off frequently in God – one such night I got up and was walking towards our dining room groping my way around, dashing into chairs not put back into place, kicking the kids stuff left on the ground. Here I was sleepy, all I wanted was a glass of water – but could not reach it without groping. The next day I was telling my husband what happened and while I talked to him I realised something. All our problems, our stress, our anxiety and fears are periods of darkness, times when we find it difficult to cope. The reason I am convinced is, that we keep groping for things, for people, in our darkness instead of turning to Jesus the Light of the World. Let us look for God in times of darkness then we will not dash into chairs and stuff lying around on the ground!

(Very true, we tend to worry too much. Let us put unconditional trust in the Lord. Superb reflection, thanks Jane). Cynthia Abegail in behalf of New World.
Posted by

CynthiaAbegail
at 5:08 AM
No comments:


Posted by

CynthiaAbegail
at 5:06 AM
No comments:


AUTUMN RETURNS WITH ZEST
Emma is a normal teenager with all the hustle and bustle of life.
When you see her, you will agree with me that she is hyper Gen Y.
She wears those fitted jeans that her bones seems to complain of
claustrophobia! She has a top that complements her ebony skin.
Her sandals are like those worn by the Roman gladiators but with
a feminine touch. What a delight to look on.
She has a downside: an incurable romantic. She met Ronnie one
sunny day of January (Southern hemisphere). Ronnie wears thick
glasses but behind those spectacles are eyes that penetrate beyond
imagination. He is sweet and caring but nevertheless masculine.
Emma almost melted on the first day they met. At the age of eighteen,
this is the first time her heart palpitates at a dangerous rate that her
cheek flushes like nectarines. She was almost speechless, thanks to her
friend Carmie who talked most of the time. At this stage, Emma gently
said, "Pleased to meet you." Ronnie smiled with a tease, "I am very
pleased too."
After three days of sleepless nights, she wandered around the campus
with an utter joy and excitement of seeing Ronnie again. As usual, she
has a pink I-pod: listening to romantic music, well, Julio Iglesias, mind you!
Then she turned her head. "What? That's Ronnie and he is so sweet with
Jessica. Hmm, that ugly girl..." She is now blushing not with mirth but with
anger. Hmm, she is jealous. She quickly turned to the other direction
with a poker face. As she is hurrying to leave the scene, someone is calling
her. It's Ronnie. "Hi Emma, you are rushing?" Emma could not contain her
wet eyes. Emma replied, "Why did you leave Jessica?" She has nobody
with her." Ronnie blurted, "O, Jessica--- we are just waiting for her boyfriend."
Emma seems to jump! Emma replied, "Really, that's good."
Ronnie held her hands and said, "How about a cup of coffee in the canteen?"
Emma with excitement said,"I love that. We still have fifteen minutes break."
Ronnie said, "Is it possible for me to visit you at the dormitory tonight?" Emma
thought she has an assignment. She replied, "If it is a short visit, that's alright."
Ronnie said, "I will keep it short and crisp." Emma giggled, "I will wait for you."
Ronnie blurted, "About 7:00 pm." Emma replied, "Sure!"
At this point, Emma remembered that last autumn she broke off with Zac. Now,
autumn has returned with all beautiful colors.
( A beautiful story indeed !!-George)
All rights reserved: Maria Cassia Austero
Posted by

CynthiaAbegail
at 5:05 AM
No comments:


Monday, March 30, 2020
Posted by

CynthiaAbegail
at 5:12 AM
No comments:


Posted by

CynthiaAbegail
at 5:11 AM
No comments:


A FANTASTIC STORY# FOUR BOY FRIENDS # FORWARDED BY SR. ELSIE BABY
STORY: Four (4) Boyfriends
Thought provoking.
Once upon a time there was this girl who had four boyfriends.
She loved the 4th boyfriend the most and adorned him with rich robes and treated him to the finest of delicacies. She gave him nothing but the very best.
She also loved the 3rd boyfriend very much and was always showing him off to neighboring kingdoms. However, she feared that one day he would leave her for another.
She also loved her 2nd boyfriend. He was her confidant and was always kind, considerate and patient with her. Whenever this girl faced a problem, she could confide in him, and he would help her get through the difficulttimes.
The girl's 1st boyfriend was a very loyal partner and had made great contributions in maintaining her wealth and kingdom. However, she did not love the first boyfriend. Although he loved her deeply, she hardly took notice of him!
One day, the girl fell ill and she knew her time was short. She thought of her luxurious life and wondered, I now have four boyfriends with me, but when I die, I'll be all alone."
Thus, she asked the 4th boyfriend, "I loved you the most, endowed you with the finest clothing and showered great care over you. Now that I'm dying, will you follow me and keep me company?"
"No way!", replied the 4th boyfriend, and he walked away without another word..
His answer cut like a sharp knife right into her heart..
The sad girl then asked the 3rd boyfriend, "I loved you all my life. Now that I'm dying, will you follow me and keep me company?"
"No!", replied the 3rd boyfriend. "Life is too good! When you die, I'm going to marry someone else!"
Her heart sank and turned cold.
She then asked the 2nd boyfriend, "I have always turned to you for help and you've always been there for me. When I die, will you follow me and keep me company?"
"I'm sorry, I can't help you out this time!", replied the 2nd boyfriend. "At the very most, I can only walk with you to your grave."
His answer struck her like a bolt of lightning, and the girl was devastated.
Then a voice called out: "I'll go with you. I'll follow you no matter where you go."
The girl looked up, and there was her first boyfriend. He was very skinny as he suffered from malnutrition and neglect.
Greatly grieved, the girl said, "I should have taken much better care of you when I had the chance!"
In truth, you have 4 boyfriend's in your life
Your 4th boyfriend is your body. No matter how much time and effort you lavish in making it look good, it will leave you when you die.
Your 3rd boyfriend is your possessions, status and wealth. When you die, it will all go to others.
Your 2nd boyfriend is your family and friends. No matter how much they have been there for you, the furthest they can stay by you is up to the grave.
And your 1st boyfriend is your Soul. Often neglected in pursuit of wealth, power and pleasures of the world.
However, your Soul is the only thing that will follow you where ever you go. Cultivate, strengthen and cherish it now, for it is the only part of you that will follow you to the throne of God and continue with you throughout Eternity.
Thought for the day: Remember, when the world pushes you to your knees,you're in the perfect position to pray.
Pass this on to someone you care about - I just did.
Being happy doesn't mean everything's perfect. It means you've decided to see beyond the imperfectio
ns.