Monday, August 19, 2019
MAGENTA
A purplish red colour is lively magenta,
As the mind is vivid like Spanish moor
But at noon, hollow as the rose allure
So warm that gales still in the ocean...
Magenta is the spice that mimics there
In my heart that boosts rhymes to share
Bubbles like lime steeping seems a lava
Flowing unabated; never seems to end!
Unlike some days when its emerald green
So lovely, O' the shine and vivacity beams
But not the one that skylark my dreams,
Magenta, striking and classy in the whim.
It is the colour of my ways, unlike salmon
Yellowish seems out of bounds and moan
And the deep blue sea summons oblivion
Magenta, the colour of my inspiration!
Sunday, August 18, 2019
Posted by

CynthiaAbegail
at 5:11 AM
No comments:


ST MICHAEL, PRAY FOR US!!! Defend us in the hour of battle. Be our safeguard against the wickedness and snares of the devil. May God rebuke him and do Thou O' Prince of the Heavenly Host by the power of God, cast down into hell satan and all evil spirits who prowl about the world seeking the ruin of souls. Amen.
ST ANTHONY OF PADUA
THANKS TO THE WITTY MARIO MACARI FOR THIS
ART ABOUT ST ANTHONY'S MIRACLES!!! NEW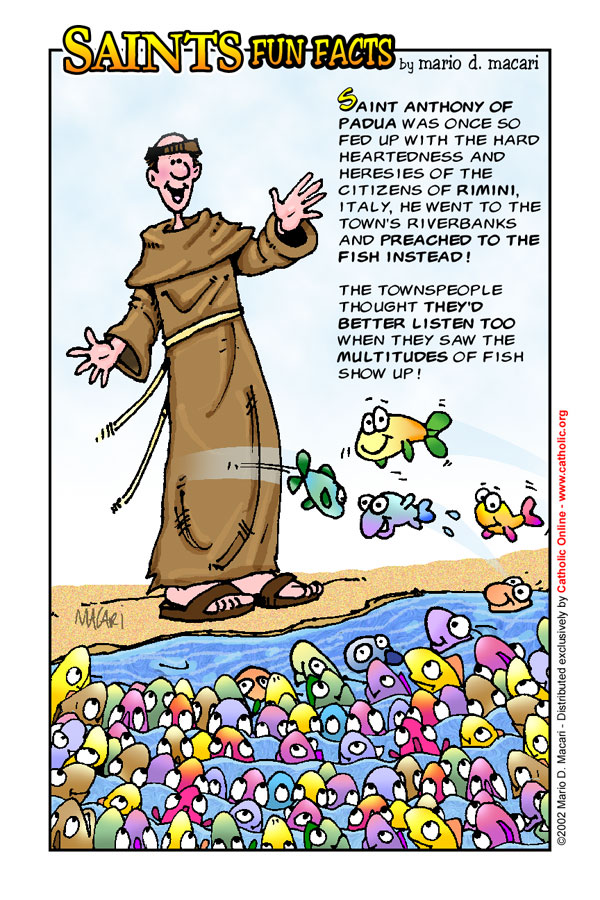 St Anthony of Padua is an evangelical Doctor of the Church.
He lived during the period of great persecution of Christians.
He had rebuke many heretics and was able to convert through
God's grace, many unbelievers.


Those unbelievers returned to God's fold by witnessing miracles
attributed through his powerful intercession. One famous miracle
is when he was preaching to heretics and they did not like to listen to
him. Then, St Anthony preached to the fishes and said, "Why don't
they listen to me?" According to the story, the fishes all lined up
and stand over the water in an erect position! The heretics were amazed
and believed in the power of God.


Another miracle story is an occasion where he was challenged by
an atheist and said, "We will place before a hungry horse hay and
the host (body of Jesus) and we will see which one he will like!"
As the story goes, St Anthony raised a host before the hungry horse.
Suddenly, the horse knelt before the host!


Miracles are gifts of God to assist unbelievers to develop faith in Him.
As the saying goes, "For a believer, one miracle is more than enough;
for an unbeliever, many miracles are not even enough."


St Anthony has great faith in God. Just like Mother Mary and St Joseph,
St Anthony is an exemplary example of a saint who loves God and take
God at His Word.
"On that day, you will ask nothing of me. Very truly, I tell you, if you ask anything of the Father in my name, He will give it to you. Until now you have not asked for anything in my name. Ask and you will receive, so that your joy maybe complete. (Jn 16: 23-24).
It was very clear, the Lord reminds the apostles to ask the Father in His name and they shall receive. Will the Creator of everything, who owns everything will not give what we need as long as we ask? Is anything too wonderful for the Lord? The generosity of God is beyond compare!
We must praise the Lord at all times. It's not that we just ask and ask! It's good to adore Him first; then let us ask for forgiveness of our sins. Afterwards, thank God for all the blessings you have received. Finally, we ask God for all the things that we need and ask for solutions to our problems.
Dump all worries in the bin! It's an insult to God if we do not believe that He could do anything. Have solid faith. I know that sometimes we breakdown because of our weakness. But at the end, our faith and confidence in Him must prevail! We were given the intelligence to think, therefore, let us use our brains to figure out the Awesomeness and Majesty of God Almighty! Praise the Lord! Amen.